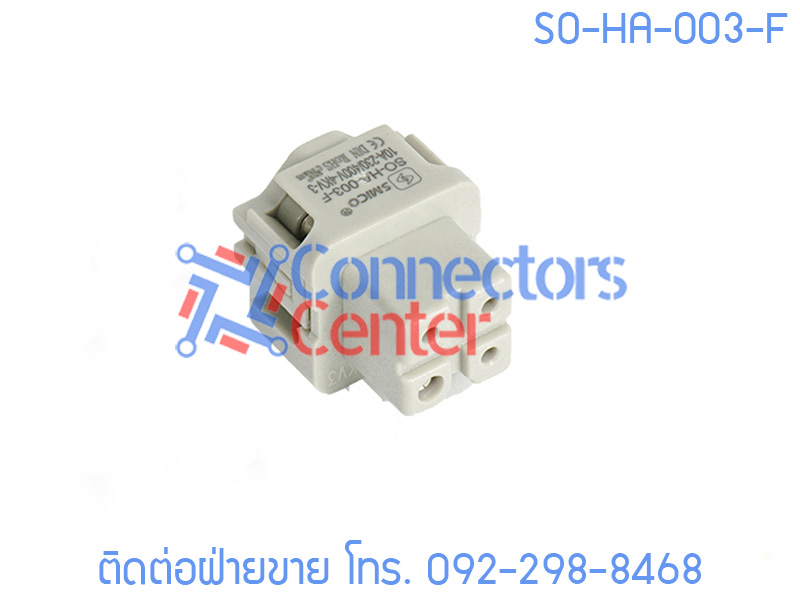 Insert
รหัส : SO-HA-003-F
Female insert screw terminal
SMICO SO-HA-003-F
3 Poles + PE, 10 A Female Screw Terminal :
Inserts
Suitable Shell:3AHood/Housing
Number of contacts
3
Electrical data acc. to EN 61 984
---Rated current
10A
---Rated voltage conductor
230/400V
---Rated impulse voltage
4kV
---Pollution degree
3
---or
10A 250V 4kV 3
Rated voltage acc. to UL
600V
Insulation resistance
≥1010Ω
Material
polycarbonate
Limiting temperatures
-40℃...+125℃
Flammability acc. to UL 94
V0
Mechanical working life(mating cycles)
≥500
Contacts
Material
copper alloy
Surface
hard-gold plated
hard-silver plated
Contact resistance
≤1mΩ
Screw terminal
---Wrie gauge
1.0-2.5mm2
---AWG
18-14
---Tightening/Test torque
0.25N·m
SMICO heavy duty connector can match the following interchangeable.
The hood and housing for H3A .
| | | |
| --- | --- | --- |
| Suppier | Plug insert | Socket insert |
| SMICO | SO-HA-003-M | SO-HA-003-F |
| H | 09200032611 | 09200032611 |
| ILME | CKM03 | CKF03 |
| TE | | |
| LAPP EPIC | 10420000 | 10421000 |
| PHOENIX | 1585252 | 1585265 |
| MOLEX | | |
| WEIDMULLER | HDC HA 3 MS | HDC HA 3 FS |
| WIELAND | 73.310.0353.0 | 73.300.0353.0 |
| AMPHENOL | | |